About Us - We are here for You!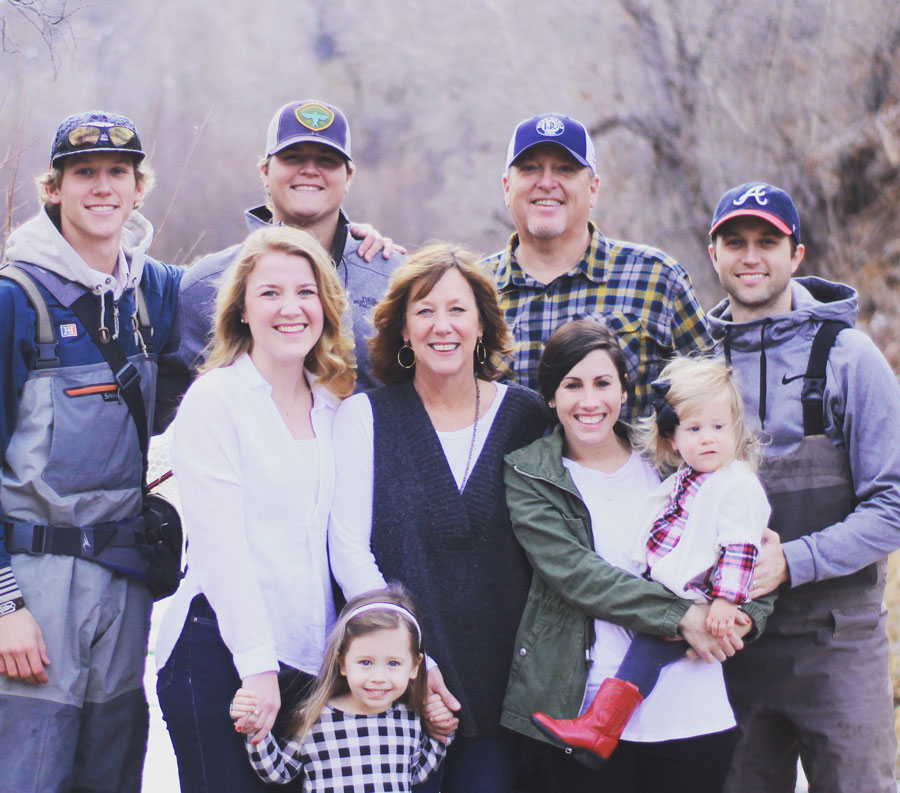 It was June 2013, when our family, including my wife Dana, our daughter and the youngest of our three sons and I moved to Montrose. We were on an adventure, but that is life, is it not? As a family we had loved vacationing in the Rocky Mountains and I was born in Littleton, Colorado living there until age 3. Funny how our journey sometimes comes full circle. A business opportunity was the catalyst that brought us to the land of the Rockies, but I realized after several months that it wasn't the right fit. Despite this, I am very thankful that our family was led to Colorado's western slope, specifically Montrose.
Before it was officially christened Montrose, this pioneer town was known as Pomona, Dad's Town and Uncompahgre Town. As far back as the 1870s frontiersmen on foot and horseback were lured to the area on rumors of fertile land and mining potential. Today Montrose has a warm community feel where family life revolves around the great outdoors and for some the great American sport of football.
It was football in fact that sealed the deal for me. I'd coached my oldest sons' football teams in Texas before the family had headed west, and days after my leaving the business opportunity that brought us here, I was offered a position as an assistant football coach at Montrose High School. Montrose High was where our youngest son, Caleb would go to school and play. It has been an incredible gift to be able to coach all three of my sons, truly a blessing to me. Coaching is who I am and has always aligned with my values—the significance of family, pursuing one's best and community. I truly have been given a great family—three sons, one daughter, a daughter-in-law, three little blessings, our grandchildren, and one incredible wife that holds us all together.
It didn't take long for our son Caleb to fall in love with fly fishing and it was a true refuge when we moved here. His passion drove him to pursue a part time job at what was Toad's Guide Shop. Caleb's love for fly fishing led me to ponder what I had learned in life and the passion I'd had for businesses I'd owned and managed. At the same time my wife and I had a desire to engage more with our community and this area. This all led us to buying Toads Guide Shop and later changing the name to Montrose Anglers. This investment has given me even more of an opportunity to continue coaching my son as well as other young men.
Surrounded by incredible mountains and rivers —the Gunnison, the Uncompahgre, the Cimarron, the San Miguel—all within a close distance. Montrose is the best of basecamps where anglers can count on catching Rainbows, Browns, Cutthroats, and Brook Trout, as well as the occasional Kokanee Salmon. During summer months, fishermen can access even higher alpine waters in this surrounding area of unparalleled beauty.
If you, like us, have fallen for the sport of fly fishing, or if you have an interest in trying out the sport for the first time, stop by Montrose Anglers. We want you to feel welcome, get comfortable, and become new friends. We'd love to share a little bit of heaven on these gorgeous rivers with you.
Meet Your Experienced Guides
Caleb Egbert
A native of the Lone Star State, Caleb moved with his family to Montrose, Colo. in 2013. It didn't take long for him to find his passion for fly fishing. Since then, Caleb has widened his horizons in the sport, becoming an avid fly tier and learning the local waters. From tricking selective eating tailwater trout or throwing streamers for trophy fish, Caleb has developed fly fishing techniques you'll want to master with him as your guide. Ask him nearly anything and he's got the experience to answer. He'll make sure you enjoy your time on the water.
Preston Roberts
A Colorado native, Preston Roberts started his love of fly fishing right here in Montrose. His senior year, he started spending pretty much every daylight hour on the Uncompaghre and other rivers around town. He is passionate about fly fishing, and he's excited to start his guiding career with Montrose Anglers. Preston spends a lot of time fishing the Roaring Fork and Frying Pan. He just finished guide school with Sweetwater Travel Company in Montana, and he has recently netted several nice trout in the Big Horn River. Preston is an avid fisherman and photographer; he'd love to help you capture some memories here in Montrose.
Jeff Dean
We are excited to add Jeff Dean to our team! Jeff spent the first decade of his life in southern Ohio, has called Colorado home since way back in the 20th Century, and has been a "West Sloper" since 2013. He and his wife live in Austin. Jeff began tying flies and fly fishing shortly after his family moved to Colorado, and has been growing his passion for the two ever since. Most recently, he has been involved with the Montrose Project Healing Waters Fly Fishing Program as a fly tying instructor and mentor, and has served as the President of Gunnison Gorge Anglers (GGA), the local chapter of Trout Unlimited and Fly Fishers International, since 2020. Some of the outreach he has been involved with thru GGA has involved fly fishing and tying instruction for local elementary and middle school students, facilitating "Women Only Fly Fishing 101 Classes" and organizing multiple fly tying gatherings at various locations throughout the "off season." Teaching is his passion, which will serve you well when you explore local water with him.
Tyler Johnston
We are excited to add a new member to our team this year, Tyler Johnston. As a native to "the Natural State" of Arkansas, Tyler's passion for fly fishing was started at a young age and has continued to evolve into a part of his daily life. Fly fishing has grown into a lifelong passion for him, as it does for many of us. From fishing for big trout on the Arkansas tailwaters, to fishing the Driftless area in Minnesota on small spring fed creeks, to further north on Lake Superior chasing the Salmon and steelhead runs, he has experienced a wide variety of fish on the fly. Tyler is excited to be a part of the Montrose Anglers team, and a part of the growing fly fishing community here in Montrose, Colorado.
Nolan Egbert
Nolan, owner of Montrose Anglers, is a native of the great State of Colorado. From an early age, Nolan has always had a love and appreciation for the best our great state has to offer: our majestic mountains, fabulous rivers and unmatched quality of living. When the opportunity to combine his love for family, coaching, and fly fishing came along, he pursued it. His great passion for the sport, undying love of learning, a lifelong commitment to doing things right, and purpose in mentoring young men, add up to being an trusted owner and mentor for life.