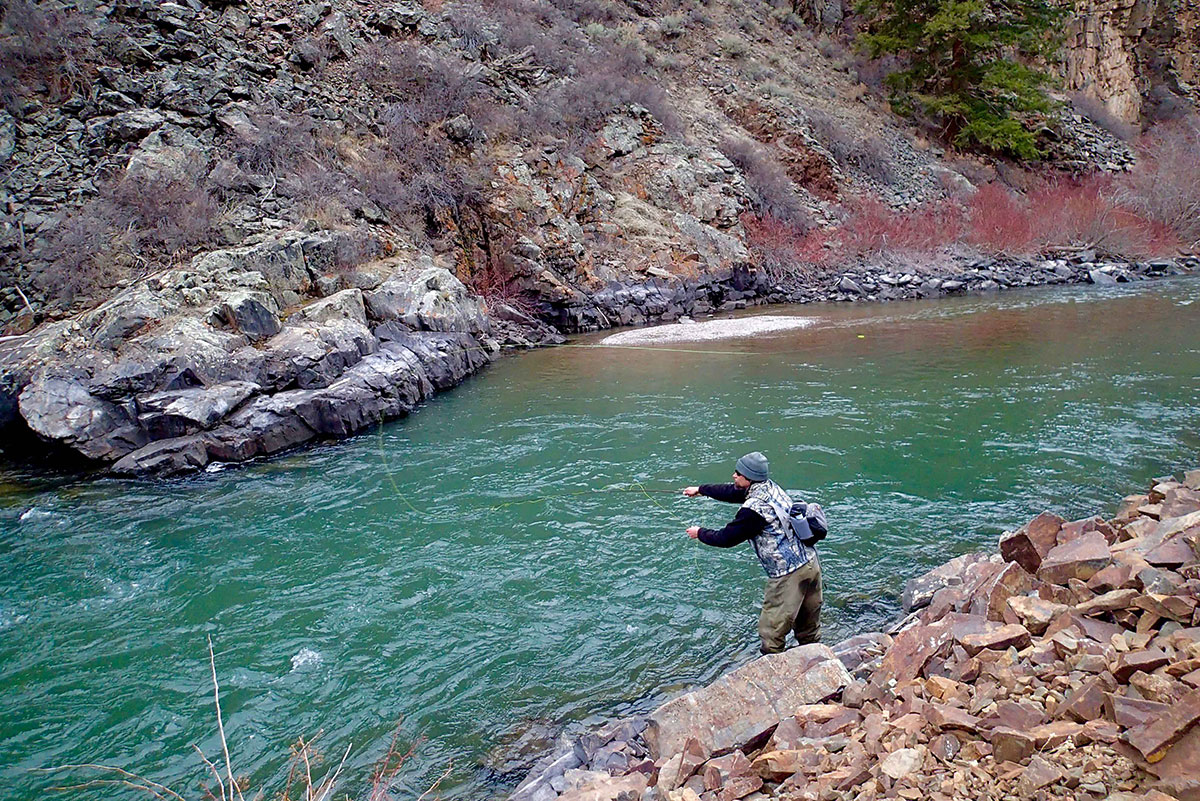 Doug Dillingham is the author of "Fly Fishing the Gunnison Country" which is available at Montrose Anglers and online at www.gunnisonflyfish.com
Lake Fork of the Gunnison River
While the biblical Garden of Eden is said to have been located in modern day Iraq, between the Tigris and Euphrates Rivers, in my mind, western Colorado's piscine paradise is undoubtedly the Lake Fork of the Gunnison River. The Lake Fork, which is located south of Gunnison near Lake City, is the least known of the Gunnison River's major tributaries. This comparatively uncrowded trout stream is surrounded by stunning scenery, has big fish potential, and angles particularly well in the springtime. It is a local favorite and where many area guides prefer to fish on their infrequent days off; I'm not sure a trout stream can receive a more glowing endorsement than that.
The Lake Fork generally wakes from its winter hibernation sometime in early April (occasionally in late March but don't bet on it) and an early season excursion to the Lake Fork rarely disappoints…although you'll have a difficult assignment trying to find an open restaurant in the quaint fly fishing hamlet of Lake City that early in the year. Although the river sees a lot of felt during the summertime, it's entirely within the realm of possibilities that you won't see another soul on the river in April. Having an entire Gold Medal piscatorial playground to your lonesome for a day is virtually unheard of these days with Colorado's burgeoning population and the Gunnison Valley's increasing popularity.
Over half the fly water from Lake City to Blue Mesa Reservoir is public and most of it is well-marked with big, white "Lake City Chapter of Trout Unlimited" signs. A trio of my favorite accesses are the Thomas Ranch, Gorsuch Ranch, and High Bridge, but some of the smaller, lesser-known access points like the Seay Easement, The Gate Campground, and Big Bend are excellent as well. The deeper water downstream of Red Bridge Campground all the way to Blue Mesa can also be off-the-charts impressive.
Springtime hatches include midges, blue-winged olives, and a few caddisflies. Golden stones aren't hatching but they are active beneath the water's surface. My typical early season Lake Fork nymphing rig consists of a #8 coffee/black Pat's Rubberlegs Stonefly Nymph with a #18 Barr's Beadhead BWO Emerger. As the old fly fishing adage goes, "the difference between a good nymph fisher and a great one is often one split shot," so be sure to use enough weight to get your flies down to where the fish are holding. I'll often fish this tandem rig all day long, only changing flies when I lose them to snags or as fish destroy the flies, which is a good problem to have. Sometimes during the mid-day, if trout are rising to either midges or BWOs I'll hoodwink a few on Roy Palm's Special Emerger or Furimsky's B.D.E. BWO. Furimsky's B.D.E. stands for "Best Dry Ever" and I think he may actually have understated their effectiveness! The Lake Fork's fish fauna includes browns, rainbows, cutbows, and a handful of privately stocked Snake River cuts. While the Lake Fork's trout average between 11-12 inches, legitimate 20-inch fish are not altogether uncommon, with trout up to 27 inches caught every year.
The Lake Fork of the Gunnison River is likely the most undeservingly unheralded trout stream in the Centennial State. Be careful if you decide to fish it…you may just discover a new favorite fly fishing spot, just like I did on my first visit to the Lake Fork two decades ago.
Fly Fishing Equipment Rentals
As an Orvis authorized dealer, Montrose Anglers offers quality Orvis equipment for rent for the Do-It-Yourselfers. We also offer other brands of rods and reels if you have a personal preference.
A full rental package consists of: flyrod, reel, waders or wet wade socks, and rubber-soled studded eco-friendly boots. All you will need to buy is your selection of flies and maybe a tool or two. All of which, our expert guides will recommend depending on the waters you intend to fish. The full package runs $50 per day. If you only need certain equipment the following is a breakdown of prices.
Wetwade Socks and Boots
$20
Rental Package
Flyrod and reel, waders and boots
$50
A deposit is required with all rentals and is returned when the equipment is returned in the same condition it was rented to you. Replacement fees will be charged for damaged equipment or equipment that is not returned, so please treat it like it is your own!