River Reports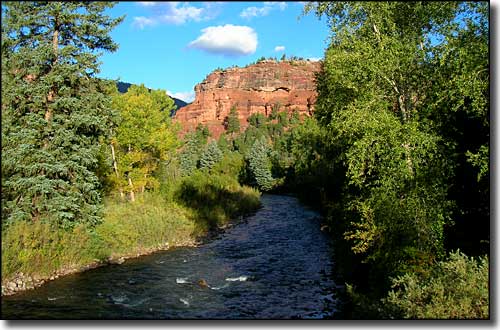 San Miguel River near Placerville
The San Miguel River begins in the San Juan Mountains above Telluride, Colorado and ends at the confluence with the Dolores River 72 miles downstream.
Current Conditions
November 28, 2023
The San Miguel has begun to see lower flows as we head into winter but, fishing has continued to be ok. Fishing a light nymph rig with small jigged nymphs and baetis/midge patterns have been producing fish. With colder temps, look for fish in slow deep water.
The lower sections on the San Miguel continue to experience runoff from small feeder creeks and tributaries!
Chuuby Chernobyl #8, Rainbow Warrior #16, Flashback Pheasant Tail #14, Radiation Baetis #16, Tungsten Zebra Midge #18
River Information
The San Miguel River, which originates high in the windswept San Juan Mountains above Telluride, is one of the last undammed and untamed freestone fly waters in Colorado. This boisterous beauty is popular with both beginners and seasoned anglers alike. Neophytes benefit from the river's generally easy wading and relatively easy and aggressive trout, while more advanced fly anglers love the challenge of getting a perfect drift in the river's more difficult and confusing currents. Brown and rainbow trout dominate this trout stream, butbrookies and cutthroats call this fly water home as well, especially in the headwater area and tributaries of the San Miguel. While no one will make the claim that the San Miguel is a "big fish" river, trout to 18 inches are not uncommon, and even a rare 20 incher can be found in out-of-the-way pocket water that is difficult to access.
Quality fly fishing begins in late February or early March, and lasts until runoff puts a kybosh on the fly fishing fun, normally by early May. The San Miguel remains sullied and largely unfishable through June. Several species of stoneflies provide protein for trout from February through September and a biblical caddisfly hatch brings a bug banquet to the San Miguel during the summer months of July and August. Blue-winged olives, pale morning duns, midges, and terrestrials round out the macroinvertebrates available to trout in this fabulous freestoner.